Setting up of a library in office premises at a minimal cost
The significance of a library lies in the contents itself and having it suit your workplace requires your company's or departmental focus. Every company should have a library and therefore, we are willing to take up the cost of the maintenance and inventory of books.
Not every person will be on panel with a shared book collection, and many books will still exist in individual offices, but every so often that is good for separate domain books to be used only by definite team members. Over time, the main library will develop and become a true reserve.
The task of forming a library may not be as frightening as expected. When you are ready, these are the simple and easy steps that have to be followed:
Generate a central place for the books and develop a system for putting them together like by grammar style, encoding language, or genre. At times a system cannot be fully comprehended until you are looking at the books and seeing developments in the topics. This is also when you should take a decision that if you need a checking out system.
Request staff to drop their company-owned books off at the bookcase. This lets them to bring in any from home that were borrowed. After a few days of a slow trickle of books being given back, walk around the workplace and gather all left over library books that are not being dynamically used.
Organize the books, leaving a petite extra space on every shelf so it's not a fight back to replace or remove a title. It is also a good inkling to have a basket or box on one shelf with printouts of essential internal style rules and user manuals.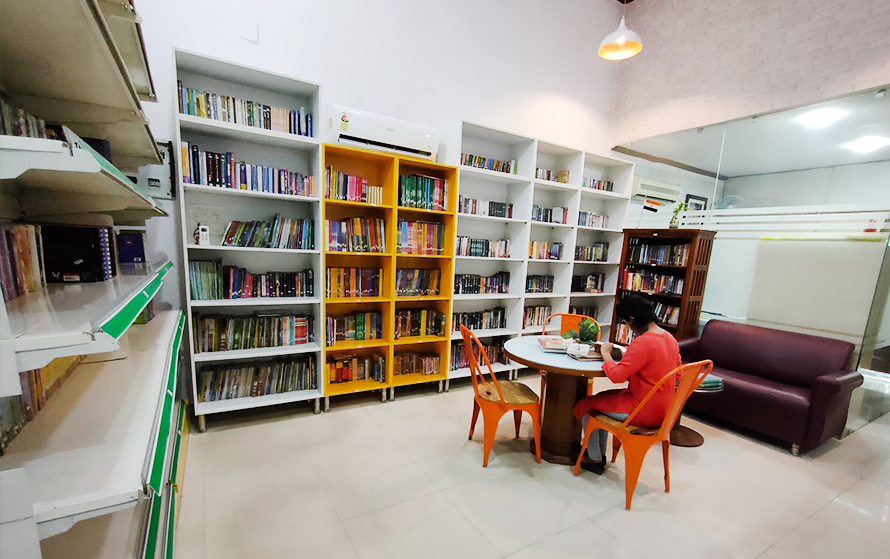 Why library is important in offices or in work environment?
Libraries are important at every stage of life. From the time when you are in school to the time you are even working and more. Library lets us to read the books which we are interested in and lets us gain knowledge which might not be accessible over the internet. Therefore, establishing a library in office can be beneficial to the staff and also the company in the long run.
The Benefits of having an Office Library
Libraries can house material samples,editorial reference guides, technical books, or even archives of user guides. They can be useful at the time of crisis and also they help you build your knowledge on a particular subject.
A book shelf should be situated in a great trafficked area such as a front lobby, break room, or conference room. Having workers see the book shelf everyday or even multiple times a day supports to retain the program fresh in their minds. Also, through a devoted book shelf, you can group alike books into groupings for comfort of browsing.
There are various reasons to have a library in an office and there are various benefits too. For example, you are writing like there is no tomorrow and then you require looking into some information. The info is not available online so you require that book you saw your co-worker reading previously in the week. You go to his office and she is not there and the book is gone.
In normal places, you may fright, but if there is an office library, you would know the book is probable to be back on its shelf and you can use it and get that work done like a boss. Is it not a pronounced feeling to know precisely where something you need is situated? Well, that is not the only advantage to a workplace library, some of the other benefits are stated below:
Saves money.
As an alternative of buying the same book for every worker who might want to refer it, you can buy one for a communal library. This goes a long way for medical, technical, or legal books which cost a handsome penny in the first place.
Provides consistent information.
You are certain that your team is utilizing the same resource information and, therefore, there will not be various conflicting information to work on a collective project. This is particularly significant in the epoch of websites being utilised for reference guides without any checks and balances from more reputable and edited sources.
Helps to build an asset and a standard.
The establishment of a company or departmental library, even if it is just a bookcase in a corridor, is also the creation of an asset for all employees and the perpetuation of priorities. It tells one and all that precise, knowledgeable, and educated employees are valued and supported. This, in turn, sets the quality for projects to carry that identical standard of excellence.